…with Brand Success!
Applying a brand approach will put you and your business in a great place from which to generate new, profitable sales growth and add real value to your brand.
Clearly the UK economy is emerging from a long recessionary period. If you haven't done so already, now is the time to re-assess your business and brand proposition against a vision of where it needs to operate and succeed in the next 3-5 years and beyond.
Doing this successfully will likely result in the built-in ability for your brands and business to create sustained and steady profitable growth from a tribe of customers/clients who have become strong advocates for what your business and brand does for them. Your customers / clients will want to know what's new – products or services – rather than price or what's on offer. 'Value for experience' with your brand becomes more relevant than 'value for money', for these people.
Wasting money on discounting just to stand still is a clearly the sign of desperation. This is the sign of a weak brand unable to differentiate itself to drive customer / client advocacy. Worse still, it puts customers' focus on price and comparison. Don't go there! You'll be attracting the wrong type of customer.
Leverage brand thinking and approaches to driving growth and you'll be in  a much stronger position… an upward spiral of growth, profitability and market share gains.
We don't have to look far to see examples of well known businesses taking a brand approach to drive success. Let's take a look at Waitrose. 'Never knowingly unsuccessful' the brand team at Waitrose, clearly changed up a gear with the introduction of the own label 'Essentials' range some six years ago.  Why? It's about the Waitrose quality proposition (a differentiator) for products that are every day essentials.

So while Tesco and Asda battled it out with price, extra vale and promotions, Waitrose confidently announced their quality proposition was now even more accessible at prices that were implicitly great value.  'Essentials' is not about lowest price. It's about a brand that's confidently serving its customers with exactly what they want, higher quality products that represent great value for money, every day.
Stand for something different and then deliver it really well, consistently. A brand success approach in action.
How might you apply this principle to help grow your business?
Waitrose just keep leveraging the brand approach to drive more success. The latest creation 'Love Life' will be a sure-fire success. It's an example of excellent positioning strategy and innovation working in harmony. 'Love Life' is a celebration of food at it's most delicious. It's visually vibrant and sets your taste buds dancing. But here's the point. It's all really healthy too.
Most brands would have jumped on the overt health positioning platform. Not Waitrose. They really know their customers needs and the challenges associated with making healthy food a high margin commercial success.  The solution – focus 'Live Life' on being a celebration of fantastic ingredients and tastes, all underpinned by implicit healthy credentials. Another master stroke.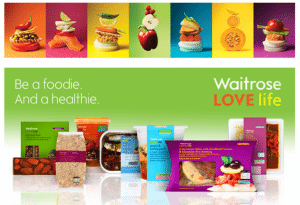 There's so much going on within the world of brands that can be practically applied to help you grow your business. So, keep an eye on the Brand Success articles and features which are written to provoke your thinking and help you to apply new ways to grow your brand and business.
If you're passionate about profitably growing your business through adding value to your brand, then let's talk about how we can work together to deliver your brand's success.