We all know that customers who recommend your brand to others are valuable to your business.
If these customers strongly recommend your brand to others, then it has done something for them that they love. So, I call these customers Brand Fans. Typically, they are the least sensitive to the prices your brand charges and they tend to want more of what your brand could do for them.
But just how valuable are these recommending Brand Fans?
Typically, they create 8 times their own lifetime value. Wow! Now calculate that value for your business. It's significant.
There's more. Typically, 2% of customers [who are strongly recommending your brand] create 20% sales and attract other customers through recommendation, that as a whole, create 80% of sales revenue. What's more, they create 150% of profit generated.
These Brand Fans are so valuable, that attracting and creating more of them needs to become the number one priority for your brand, if you want your business to achieve its true profit potential.
What better way to create profitable growth that is not only sustained but can accelerate with time?
No doubt that your business has and is creating customers who recommend your brand. But think of the profitable growth potential for your business, if your brand could consistently create more of these super-high-value customers – more Brand Fans?
But how?
Surprise and delight
So, what are the most significant influences that create this strong recommendation?
It has been proven that surprising customers with an unexpected experience and/or delighting them by exceeding their expectations, are the most significant creators of strong recommendation.
So how can delivering surprise and delight for more customers be achieved?
Here are 5-steps you can use to attract, create and retain these super-high value Brand Fans.
Sweet-spot – Identify where and when your brand is at its best. This is likely to require a combination of expertise, assets and skills to deliver the successful outcomes that define the brand's sweet spot. Keeping the brand in its sweet spot will set it up perfectly to create surprise and delight. But that's not all that's required!
Most valuable customer groups – Before these people can be understood, they need to be identified by what they deliver for your brand and business. Examples of the criteria you might choose to use: Lifetime value, profitability, more likely to recommend your brand perhaps! You'll need to decide on the criteria you'll use to identify some existing customers, to make sure that they qualify as being in the 'most valuable' status.
Once you have identified these customers, the challenge is to understand them in specific ways. Try and identify 2-3 different groups. Each group is made up of people with similar needs, aspirations, expectations, behaviours, attitudes and perceptions of the market in which your brand operates. The 2-3 groups will be different to each other.  This is what you need to know to be able to craft powerful propositions to surprise and delight them.
Powerful propositions – This is where you consider steps 1 and 2 to best inform the makeup of what your brand does best for each of the most valuable customer groups. The insight or problem that your brand solves might be slightly different for each audience, so your brand responds with different solutions for each group. This way, it's set up to be able to surprise and delight each audience.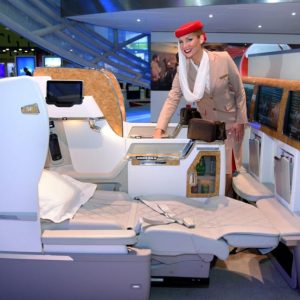 For an example of this in action, think of the difference in what an airline offers customers in first class, business class, premium economy and economy travel. The offer/proposition is very different, because the reality of the problem-solution and expectations of the experience offered are different for each customer. In spite of this, it all comes together successfully under one brand in each aircraft.
When defining powerful propositions, I find it helpful to consider the role that the brand plays for each of the most valuable customer groups. Also, no matter what your brand does, think of it as offering an experience to these potential Brand Fans. The challenge is to make the experience more valuable to these people than the alternatives offered and crucially more profitable for your brand than it is currently.
People – Everyone involved in delivering your brand across the business will indirectly or directly impact the customer experience. So, everyone influences the brand's ability to create strength of recommendation…or the opposite of attraction – detraction. Given this reality for any brand, it's crucially important that everyone involved in bringing it alive [internally – your people, and externally – suppliers] genuinely understands steps 1-3 and how this all comes together under one clearly defined brand.
Not only do they need to understand all this but crucially [again!] what they need to do to bring it all alive in ways that creates strong customer recommendation. There is often a need to refine and create new processes, systems and role performance measurement to ensure it not only happens, but it happens consistently. But, all this becomes very worthwhile when more customers become Brand Fans, introducing new, highly profitable customers to your business.
Creating Brand Fans – these strong recommenders of your brand – also applies internally, to the people working on your brand. With clarity of the role they play to the future success of the brand and business – from steps 1-4 – comes higher levels of commitment and productivity. In addition, these internal Brand Fans recommend the business to others, so your business becomes more attractive to attract the right talent. More of this and the value it brings in my next blog.
Measure and manage into higher performance – Given that the focus is to create customers who strongly recommend, then it follows that there is a real need to measure this on-going, so that it can be managed in ways that create increasing numbers of them. This is where the ability of your brand's customer experience to create Brand Fans is measured.
There are many ways that this can be measured. I favour keeping this focused on measuring the willingness to recommend and the reason why at specific points on the customer experience. Any more than this and it starts to become a piece of market research.
With interpretation of what's going well and not-so-well, comes the capability to manage the customer experience by prioritising resources to fix issues that prevent strong recommendation.  I'll be covering the success principles of setting up a customer experience measurement and management approach in blogs to come.
I hope that this has provoked your thinking about the powerful potential there is on focusing your brand and business on creating Brand Fans.
Making it a priority for everyone across the business will enable your brand to achieve its true profit potential.
So how can delivering surprise and delight for more customers be consistently achieved?
The answer beyond measuring and managing it, is to create customer experiences that are produced from a better way to do business. This is the focus of my next blog. Stay tuned!